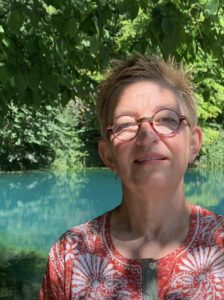 Catherine Vuylsteke
Catherine Vuylsteke (°1964) is a writer, journalist and documentary maker living in Brussels
e-mail: catvuylsteke@gmail.com
address: Chaussée de Waterloo 363b, 1050 Brussels, Belgium
1982-1986: University of Ghent, sinology, graduated with distinction yearly.
1986-1987: Shanghai Fudan University, department of Foreign Students, Chinese language and literature
1987-'88: University of Ghent: Teacher Training, degree with distinction
July 2010: Chinese language course, Tainan, Taiwan
1987-1989: free lance journalist for Belgian media such as Knack, De Morgen. Publication in Hong Kong's english language daily South China Morning Post
1988-1990: Chinese teacher in evening courses, Antwerp School of Languages
1996-1999: RITCS, school for film and journalism in Brussels, Teaching the Foreign News course
1989-2014: Full time foreign news editor with the dutch language newspaper De Morgen, in Brussels. Grand reportages on a large number of political, social, economical and cultural subjects in: China, India, Vietnam, South-Korea (1997), Japan, Turkey, Laos, Cambodia, Indonesia, Hong Kong, Taiwan, Afghanistan, Morocco, Ivory Coast, Senegal, Uganda, Tanzania Concept, research, coordination and partial execution (this being group projects) of a number of series: -womens rights (five part series of double pages in all the major cultures, personally went to China and India) -blood on their hands, series on youngsters who participated in often politically motivated violence, in a post-conflict situation. (Northern Ireland, Lebanon, Mozambique, Sri Lanka, Colombia – personally did the Sri Lanka-story) -Hiroshima, fifty years on -Aids in Africa (five countries, five themes (such as religion and hiv, youngsters and counseling, .. in Tanzania, South-Africa, Ivory Coast, Uganda, Botswana – personally went to Uganda (the so called success story, and Ivory Coast (religion and HIV)) -25 years of Iranian Islamic Revolution (five part series, full page) -Morocco, womens rights -Bollywood -hip hop in Senegal -numerous grand reportages in China
2019: The big question, series of interviews on Belgian Dutch language tv. Is China a threat? Do we need borders?
2014- : free lance journalist, writing for Knack Magazine, De Standaard newspaper and Klara radio. Grand reportage on plastic surgery in South-Korea, unmarried professional women in Japan,  protests in Hong Kong.
2010- : Catholic University of Leuven, Campus Brussels: special master in journalism. Teaching Foreign News reporting
the People's Republic of Desire, March 2007, Meulenhoff/Manteau, now in second edition
Among Men, the hidden lives of Moroccan gays, March 2008, Meulenhoff/Manteau
The weight of Heavenly Peace, freedom and resistance since the massacre of Tiananmen, May 2009, Meulenhoff/Manteau
Facing Brussels, Bai Publishers, 2010
Silent Stories, documentary, 2011
The Past is a Foreign Country, November 2011, De Bezige Bij Antwerpen
The art of becoming, documentary, 2013
Poste Restante, short story for Citybooks Ieper, De Buren, 2016
Viet Bleu, monologue on the Vietnam war written for the Word Front Festival, 2015, published by Azul Press, 2016
1997, Citibank Prize for Economic Journalism, for grand reportage on the social fall-out of the privatization of Capital Steel in Beijing
1996: Nominated for KBC-Press Prize for grand reportage on Chinese migrant who settled in Belgium and who travels home for the first time in seven years.
2012: Silent Stories was awarded 'Best Documentary' -award in both Quito and Montreal
 2013: the art of becoming is awarded the 'Best Documentary'-award at the Festival des Libertés in Brussels and the Prize of the RTBF.
December 1999- February 2000: Aids in Africa, International House Brussels, later shown in other venues in Belgium. Text provided for the work of colleague photographers (with whom we did the series in the paper)
March -September 2007: People's Republic of Desire, Chinese Pavilion in Laken, near Brussels, texts for series which led to the book, text accompanied the work of the photographers
August-October 2008: Koen Wessing, pictures from China, Utrecht, Holland, Central Museum, text and conference, in August 2009 Wessing's book was published with my texts, at Voetnoot Antwerp/Amsterdam. Exposition in the Amsterdam Photo Museum.
June 10th to September 12th 2010: Facing Brussels, a photographic and literary exploration of the many worlds that constitute the extraordinary diversity of Brussels, from tourists and commuters to eurocrats, homeless people, migrants and Brussels natives. BELvue Museum, Brussels
 November 23rd 2011-January 29th 2012: The past is a foreign country, the story of eight unaccompanied minors in Belgium. A phographic and literary exploration in BELvue Museum, Brussels
September 2013: Nadine Stijns, Floating Population, a set of columns to accompany the pictures of Chinese rural migrants in Stijns publication/show in Antwerp.
24/4/2014: Flanders-China Chamber of Commerce, Marriott Hotel, Ghent, opening speech
24/2/2015: Flanders-China Chamber of Commerce, China Event at Sheraton Airport Hotel, opening speech
8/03/2020: Carte Blanche tour at the House of European History, Brussels